Weddings
Plan Your Dream Day
At Woodside Hotel Group, we take special pride in weddings. This most important day of a bride and groom's life requires not just precision on getting each and every detail right, but more so the passion to deliver a memorable and thoughtful experience that is both elegant and sophisticated as well as joyous and fun.
Our locations and venues offer unique and highly distinctive backdrops for the big day, with elegant indoor and outdoor venues, and dramatic views and landscapes. Behind the scenes, our Executive Chefs personally oversee the menus and culinary preparation, and our experienced wedding professionals plan and execute the wedding to ensure each couple realizes the vision they have for their own special wedding.
For more information, please visit the individual properties accessible through this site to contact our wedding professionals, who are excited to plan the wedding you imagine.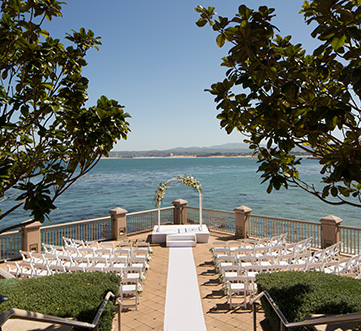 Monterey Plaza Hotel & Spa
Monterey Plaza Hotel & Spa makes a breathtaking, picture-perfect location for Monterey weddings. From dramatic backdrops to festive event spaces, outstanding cuisine, beverage and service, your perfect day will be everything you envisioned – and more. Our wedding professionals are more than happy to help plan every detail of your wedding day, from your first visit to the last dance at your reception.
Learn More
Go to Website
We hand-pick our vendors to ensure every detail of your wedding is seamless, including wedding officiants, photographers, flowers, linens, room décor, music, transportation, and of course, our delicious catering.
With an enormous range of venues, we also have event rooms that are ideal for engagement parties, bridal showers, rehearsal dinners, receptions and post-wedding brunches.